You can print a calculator or infographic to a PDF file and email it as an attachment.

Launch/open Ativa Lite and then:

1. Click Select Printer on the Main Menu screen.
2. Select a PDF printer from the list of available printers.
3. Click Set printer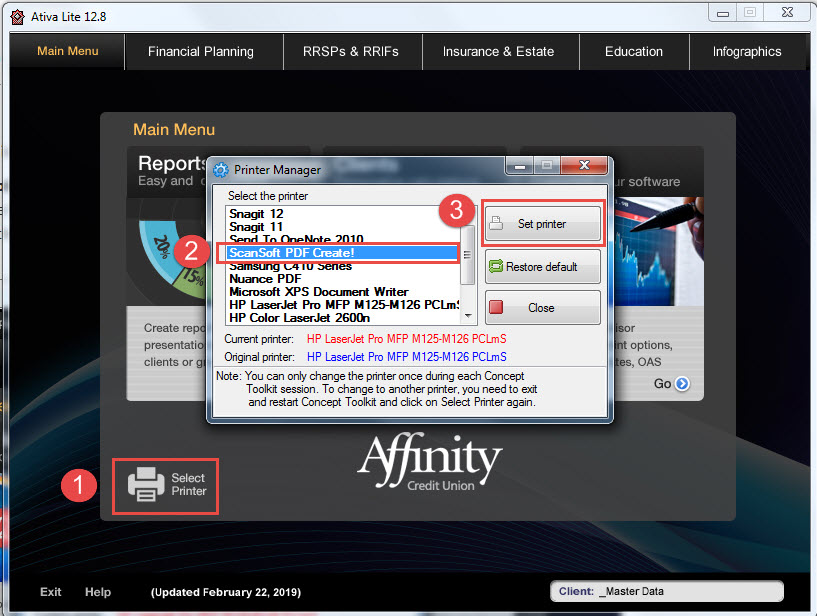 Note:
You can only change the printer ONCE during each Ativa Lite session. To change to another printer, you need to exit and relaunch Ativa Lite and click on Select Printer again.
The printer you select in Ativa Lite will be the default printer for all of your programs as long as you are still working in Ativa Lite. Once you exit Ativa Lite (using the Exit button, not the "X" button in the top corner), your default printer will be automatically be reset as the default.
---
Click Yes to confirm your printer selection.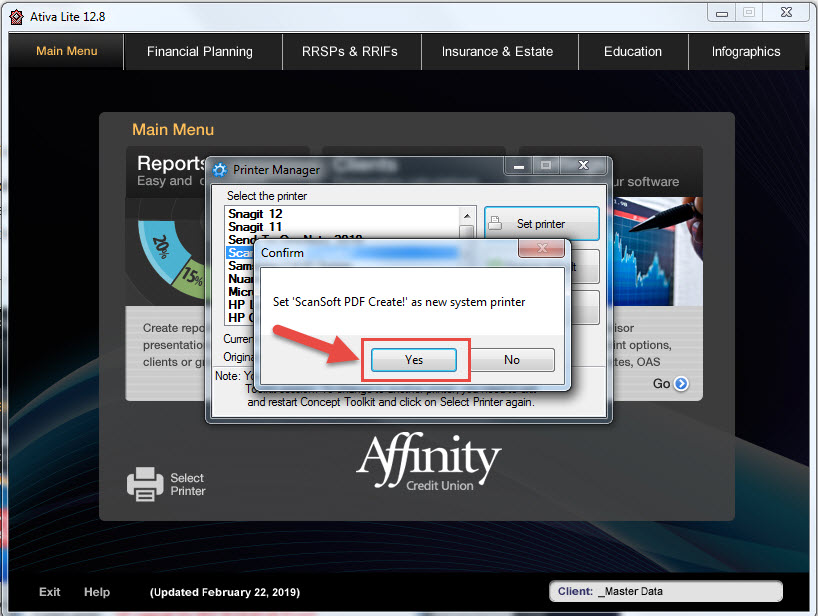 ---
Select the screen you want to print. For example:
1. Click Infographics in the top right corner
2. Click Money Facts 2019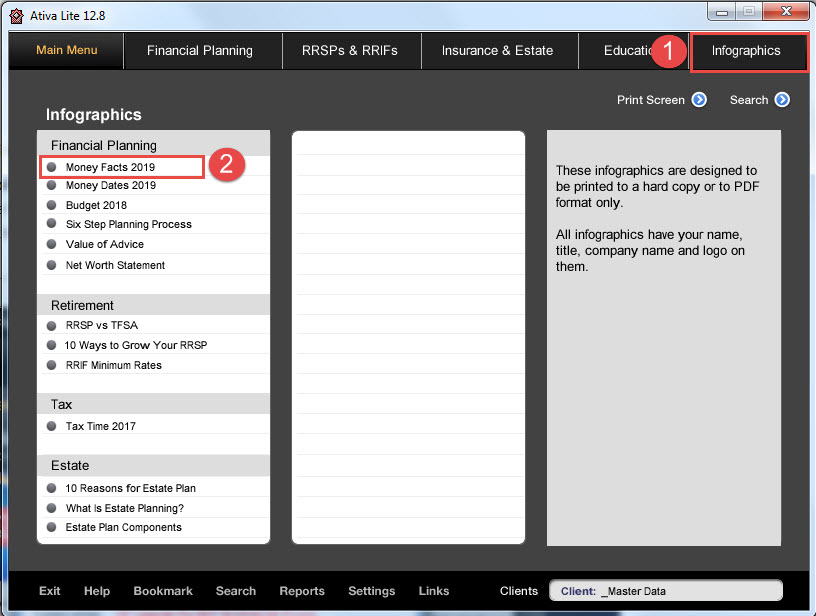 ---
Click Print Page.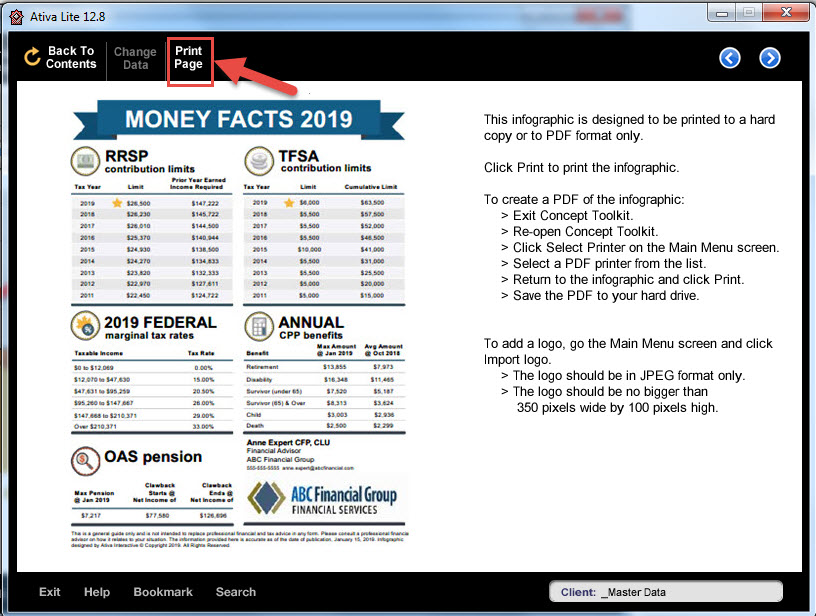 ---
Print Infographic Window
1. Enter your contact information (this is optional). You must press the Tab key after entering in your information to save it.
2. Click Print.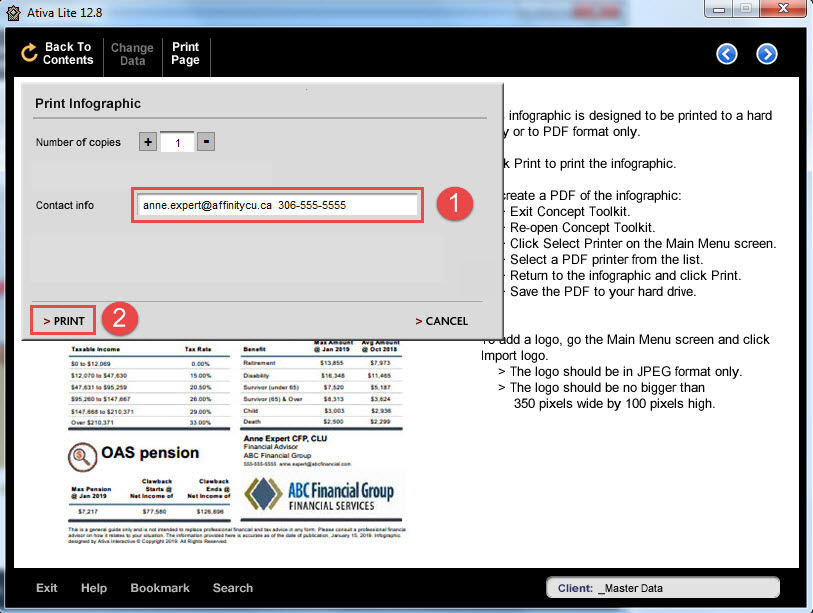 ---
Select the folder you want to save the PDF to using the Save As window. This window may appear behind the Ativa Lite screen so look for a flashing icon along the bottom of your desktop. Click on the icon to bring it to the front.
You will need to enter a name in the File name box. Enter a name in the File name box.
Click Save.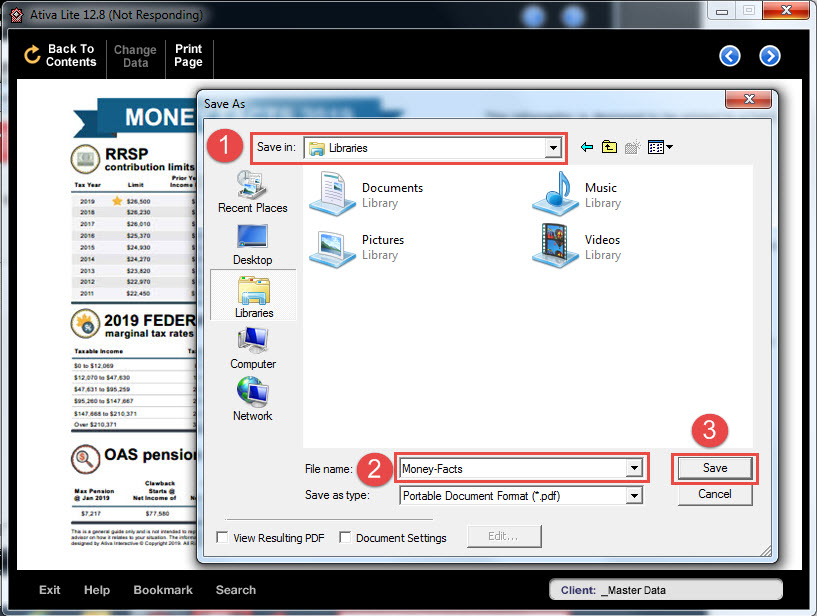 ---
Open your email program and send the "Money-Facts.pdf" file as an attachment.
---
How to Merge Several PDFs into a Single PDF File
You can only save single pages to PDF when you are in Ativa Lite.
However, after saving several one page PDFs, you can merge them into a single file using other options:
Use a free online tool that merges PDFs into one file such as PDF Merge.
Use a PDF program with a "Merge files" feature. Your existing PDF program may have this feature.