Corporate, clean, tri-fold format that folds into a brochure.
Order your professionally designed, fully customized Advisor Brochure today.

Get your customized profile in just 3 steps:
Go to the online Advisor Profile Order form and select your Profile Style and service items.
Your Profile will be created by our designers and a draft will be sent to you for review and compliance approval.
Any changes will be made and the final version of your Advisor Brochure will be sent to you.
[button color="red" link="https://ativa.com/value-profile-selection-form/"]Order Now[/button]
---
Pricing: $300 per Profile
$300 for a single Advisor Profile. One time fee.
Quantity pricing is available for Branch/Dealer/MGA/Credit Union orders. Contact us for a quote.
Return on Investment
"If the $300 Advisor Profile helps you retain just ONE client with $100,000 in assets, you will save $1,000 in trailer fees (@1%). "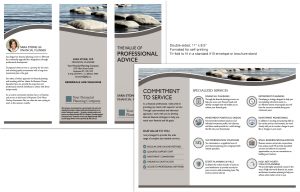 An Advisor Brochure is a professionally created PDF brochure of the services and value you provide to your clients
Completely customized with the services you provide
Branded with your logo, photo, biography and contact information
PDF format may be shared with clients online or via print
Easy to order – simply fill out the  online form and let our graphics designer take care of the rest
Quick delivery – get your Profile in 2 business days (subject to timely compliance approval)
How the Profile Helps Your Practice:
Increase client retention by:
Managing conversations when discussing fees and the services you provide.
Telling your clients about services they may not know about.
Re-introducing your Advisor Profile annually to remind them about the services you provide.
Find new clients by using it as a prospecting tool.
Got a question? Email us or call 905-648-3221.
---
Need More Customization?
We're happy to build a fully custom Advisor Profile to reflect your individual brand. If you need specific branding,  contact us for a quick quote.
---
Advisor Profiles – Corporate Referral Program
A turnkey program that lets your advisors create custom Value Profiles using compliant and branded profile templates with flexible cost-sharing options.
[button color="green" link="http://www.ativa.com/advisor-value-profile-referral/" target="_blank"]Advisor Profiles – Corporate Referral[/button]